Supporting your message in this noisy digital age.
Daniel Norris
Marketing & Communications Technology Specialist
Welcome to my website, where I am excited to be sharing this extension of my work in communications and digital marketing. I am
passionate about

amplifying organizational messages
within the digital landscape and constructing scalable systems that foster their growth.
Thanks for checking it out!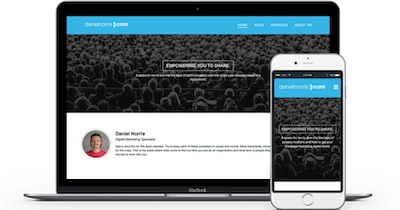 Digital Marketing sPRINTS
Intensive training built with the goal to launch an organizations communications to the next level. So whether you are just getting started or have a well-established team and platform I want to help you grow, to help you reach your goals and vision.
Always Thinking About The Future

Daniel is by far the most knowledgeable person I know when it comes to Digital strategy and marketing. He is always first to give solutions and always thinking about the future of our companies potential! He is a solid team member!
Helped me communicate my story.

Daniel has helped me communicate my story, by far, more than any other person. He provides practical insight on what makes things tick, that has stemmed from deep observation over many, many years.
Rocks at social media marketing.

This guy absolutely rocks at social media marketing!! I highly recommend him.
Gave us the jump start to begin .

Daniel Norris truly gave us the jump start to begin communicating our mission effectively with those we want to reach. We have been so impacted by Daniel and we are so thankful that we got to spend a week with him. If you get the chance to have him come out, do it, you will not regret it. So thankful for you Daniel!